We will analyze a beautiful house with two floors and three bedrooms. It has a modern facade that combines a harmonious set of rectangular blocks. You will discover the generation of illuminated and ventilated interior environments with resources such as double-height ceilings and large openings. Let's see the development of this interesting project.
Design of Main and Rear Facades and Details of the Portico
The facade of the modern house is impressive. Wooden rods in a natural tone have been combined -placed horizontally- on a structure made up of three rectangular volumes. The main entrance has been hierarchized by a modern porch with an «L»-shaped structure. This design is frequent in Smart City lahore homes. Let's see in detail in the following photo:
In the central axis of the two-story house, there is a skylight that illuminates the passageway on the second level. It is a glass structure that provides rhythm to the set of volumes.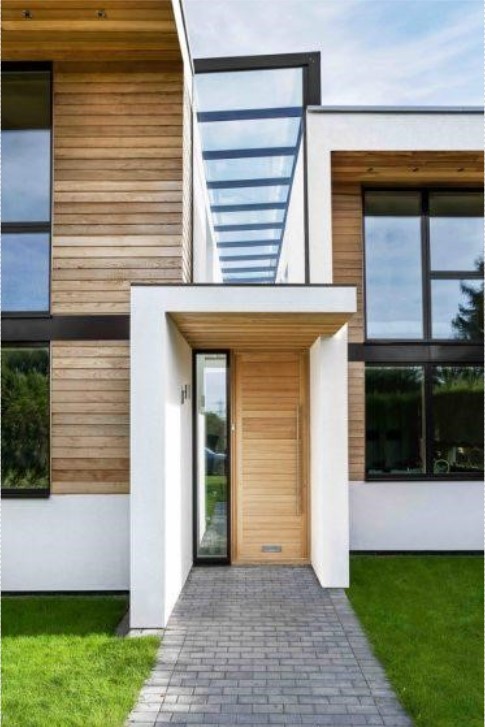 Natural cobble-type concrete blocks have been placed on the floor of the route to the main door, on both sides of the grass path.
The rear facade has large windows that allow a direct connection of the interior environment with the terrace, the room having a double-height ceiling has gained both natural lighting, a feeling of spaciousness, and an open view of the outside.
Plans of the Modern Two-story House Built on a Plot Of 200 M²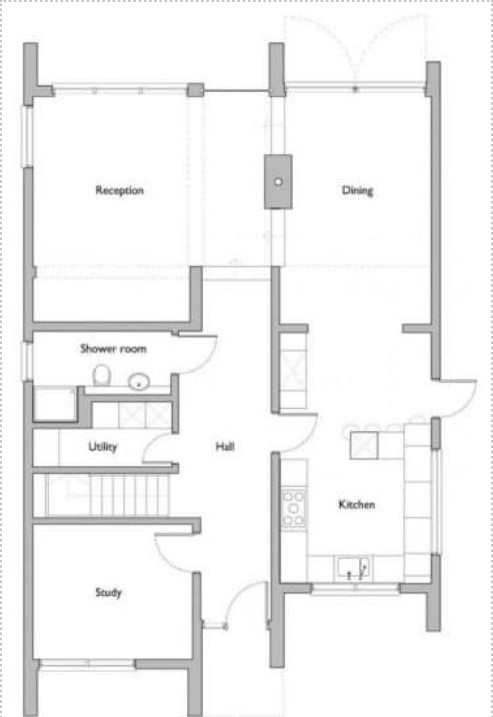 The first floor of the house is social with the design of a living room – living room (Reception in the plan), the kitchen – dining room (Dining), and a study room; The main entrance can be seen in the lower central part of the plan.
On the second floor, three bedrooms have been designed, the main one has a bathroom and a small walking closet, and the secondary bedrooms share a bathroom located next to the stairs.
The dotted lines of the plan indicate empty spaces. As we are going to see in the interior design, the room on the first floor has a double-height ceiling, which allows for better lighting and a feeling of spaciousness.
Plans of Elevations and Sections

Great

Natural Lighting

Inside

the Modern House
The color palette used in the interior design of the house is neutral, white has been applied to the walls and ceilings, and the floors are made of wood in a natural tone (the same tone as the wooden rods on the facade).
With these characteristics, the interior feels fresh and spacious and with the best views of the interior garden.
We hope that you liked the article. We also suggest New Metro City for modern home designs. Check it now!